Who We Are
We are a team of fire consulting professionals trained and licensed to provide fire safety, fire strategy and fire engineering services to residents and commercial clients in London and environs. We have a diverse range of experience working with both residential and commercial clients across large and small projects. You can trust us to develop strategies, reports and assessments that make a difference in your building's fire safety operation.
Additionally, we'll help you stay compliant with government policies like the PAS 911 and also ensure the safety of lives and property. Our key areas of expertise include identifying fire prone aspects of a building, proposing evacuation procedures, advice on how to reduce fire risk, provide fire strategies, and update your fire risk assessments.
Our Mission
At Fire Safety Company, we aim to offer personalised fire consulting service that's competitive and designed to fit the clients needs. It's our goal to help real estate owners and builders ensure safety from fire.
Why Choose Us?
Valid, up to date and government compliant fire strategies, reports, risk assessment and consultancy service that delivers value is what we provide. With our professional expertise and fire consulting experience, you can retain credibility, secure your building and comply with regulations. Fire safety, strategies and engineering functionalities not just safeguard buildings, it also protect people and assets. Additionally your insurance may be rendered invalid if there's a fire incident without our services that make sure your fire risk assessment is up to date.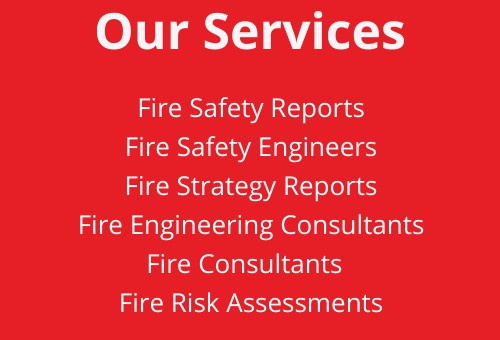 Get A Quote
Call us now to schedule a free consultation and get an estimate for your desired service.
We provide fast and competitively priced quotes so you don't have to break the bank to get quality fire strategies, fire engineering and fire safety services.
Experience You Can Count On
Highly Valued Performance
Please send over your plans, drawings, and any other relevant documents, so we can review and then quote you.
If you can also provide a summary of you what type of service, you will need from us and overall nature of your query.
Fire Safety Services were instrumental in helping us with our loft conversion. They liaised with building control to make sure everything was fire compliant. Really pleased with the service.
Great service received from Fire Safety Services. We had a comprehensive fire strategy plan & engineering report carried out. Really knowledgeable & trustworthy.
Carried out a detailed fire safety audit & management report. First class service from start to finish. Having a chartered engineer on their team was the reason we chose them.